Buc-ee's and Mercedes-Benz Spark a Partnership
Buc-ee's and Mercedes-Benz Spark a Partnership
Buc-ee's and Mercedes-Benz Spark a Partnership
The luxury car manufacturer will build charging stations at 30 Buc-ee's travel centers by the end of 2024.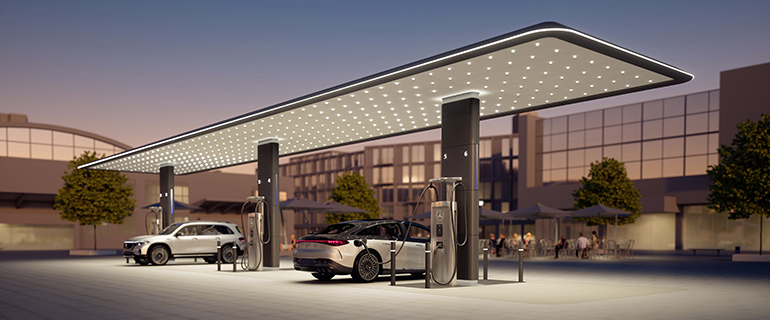 Mercedes-Benz HPC North America announced a new strategic agreement with Texas-based Buc-ee's. The luxury car manufacturer will build charging hubs at most Buc-ee's travel centers, starting with about 30 by the end of 2024, according to the company release.
The company has already begun work on charging hubs at several Buc-ee's locations across the country, with some to be open by the end of this year.
"Mercedes-Benz HPC North America's collaboration with Buc-ee's represents an important moment in our pursuit of a national charging network that sets a new standard in both convenience and quality," said Andrew Cornelia, president and CEO of Mercedes-Benz HPC NA. "Within a remarkably short period, we've made significant strides towards opening several charging hubs at Buc-ee's travel centers. Buc-ee's strategic locations along major travel routes, combined with their commitment to clean and accessible amenities, aligns perfectly with our vision. Together, we're not only providing exceptional value but also redefining the EV charging experience for drivers nationwide."
Since beginning its multistate expansion in 2019, Texas-based Buc-ee's has opened travel centers in Alabama, Florida, Georgia, Kentucky, South Carolina and Tennessee and has broken ground on locations in Missouri, Mississippi and Colorado.
In January, Mercedes-Benz announced its plans to build a high-power EV charging network across North America, Europe, China and other key markets, beginning in North America.
Mercedes-Benz aims to have the full network in place before the end of the decade when the automaker intends to go all-electric wherever market conditions allow. The full network will include more than 2,000 charging stations and over 10,000 plugs worldwide, reports the Los Angeles Times. The company is investing over $1 billion in the initiative.
Meanwhile, NACS Daily reported last month that automakers like Ford and General Motors have pulled back on their plans to manufacture electric vehicles amid strikes and decreased sales.