CEFCO Raises $450,000 For Fikes Foundation
CEFCO Raises $450,000 For Fikes Foundation
CEFCO Raises $450,000 For Fikes Foundation
The funds were raised at the company's annual Hackers-R-Us charity golf tournament.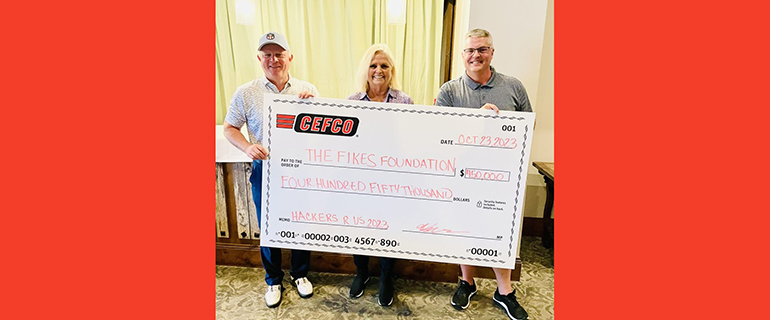 CEFCO Convenience Stores and its parent company, the Fikes Companies, hosted its annual Hackers R Us charity golf tournament on October 23 in Georgetown, Texas. The record-breaking tournament raised over $450,000 for the Fikes Foundation.
When founder C.E. Fikes and his son James opened the first CEFCO in 1979, they did so with a commitment to give back to local communities. The Fikes Foundation was established in 2017 by James and his wife, Kim Fikes, to gather funds that would provide support to communities, youth and the military through charitable causes.
"The Hacker's R Us golf tournament is one of the key highlights for us as an organization. We are proud to host this golf tournament year after year and gather our wonderful community of vendors, agencies, and industry partners who come out to support the Fikes Foundation," said Ken Rowland, chief operating officer of CEFCO. "I'm truly thankful for these partners and their continued support of CEFCO and the Fikes Foundation, including Cimarron Hills Golf & Country Club, providing a beautiful venue to get together, have fun and raise money for a worthy cause."
The funds go directly to the Fikes Foundation to support various charitable organizations that strengthen local communities and support youth. Beneficiaries include institutions like Children's Miracle Network Hospitals and the McLane Children's Hospital in Temple, Texas.
The foundation channels its efforts through grants and the C.E. Fikes Endowed Scholarship funds, benefitting local colleges and universities, including the University of Mary Hardin-Baylor. This commitment underscores the company's dedication to education within its local communities. The scholarships, accessible to all eligible students, extend to Fikes Companies' employees, their spouses and dependents, embodying CEFCO's commitment to fostering learning opportunities.
In addition, Savannah, Georgia-based Parker's Kitchen raised a record $328,000 to support public and private schools in local communities through its 11th annual Fueling the Community charity golf tournament. More than 270 golfers teed off for the scramble-format tournament on October 23.