Indeed names the convenience retailer the number one employer for happy and fulfilled workers.
Indeed names the convenience retailer the number one employer for happy and fulfilled workers.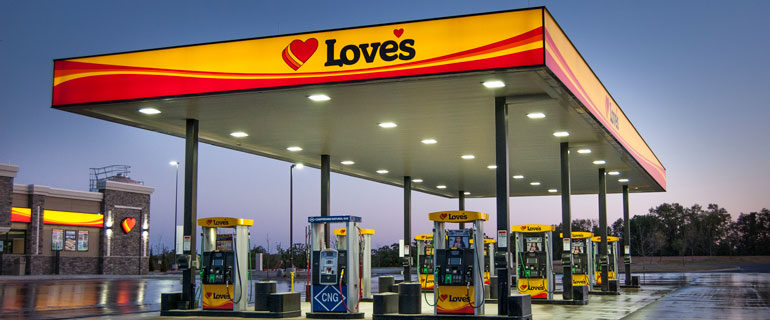 Love's Travel Stops & Country Stores earned the No. 1 spot for employee well-being, according to jobs and hiring platform Indeed. The job search site released its first Better Work Awards list this year, honoring the top 20 companies in the country for "prioritizing work well-being and building towards a future of better work."
Indeed gathered anonymous employee reviews from July 2022 to July 2023 to determine the top companies to receive awards this year. The job board only included companies with more than 1,000 employees and at least 200 unique work well-being survey responses shared over the past year. The awards were then based on how employees rated four aspects related to worker well-being: happiness, purpose, satisfaction and stress.
Love's earned the No. 1 ranking with a score of 83 out of 100, marking it as the only company with a score over 80.
"Ever since my parents opened our first location in 1964, we've always recognized that if you take care of your team members, they'll take care of your customer, and it's something that's been a tenant of our culture ever since," said Jenny Love Meyer, chief culture officer and executive vice president of Love's. "We want to thank all of our employees for contributing to the success of Love's and those who participated in this survey."
In a statement to CNBC Make It, Love's employee Jessee Rigney-Harris said, "This family really cares about each and every one of the team members, whether they're a cashier, a sandwich artist, a general manager or an executive vice president." She continued to tell CNBC Make It that she loves her job and that the company's culture prioritizes work-life balance, which has allowed her to raise two young sons.
The Top 10 of the 2023 Better Work Awards included (with score):
Love's (83)
H&R Block (79)
Delta Air Lines (78)
Tata Consultancy Services (78)
Accenture (78)
IBM (78)
L3Harris (77)
Wipro (76)
Infosys (76)
Nike (76)
"Finding the right job today remains challenging. But what we know is that people want to work for an employer that puts them first. Indeed's Better Work Awards winners stand out from the rest for truly prioritizing work well-being," said Priscilla Koranteng, Indeed's chief people officer. "When employers create better work, in turn, it leads to better lives for their employees. Congratulations to all of this year's winning employers."
Join in on the conversation about worker happiness at the education session "Cultivating an Employee-Centric Culture" at the NACS Show in Atlanta October 3. And to further delve into the needs employees have today and how to best serve them while making lasting relationships with industry peers, register for the NACS HR Forum, taking place March 18-20, 2024 in Jacksonville, Florida.