FDA Issues Over 180 Warning Letters for E-Cigarette Brands
FDA Issues Over 180 Warning Letters for E-Cigarette Brands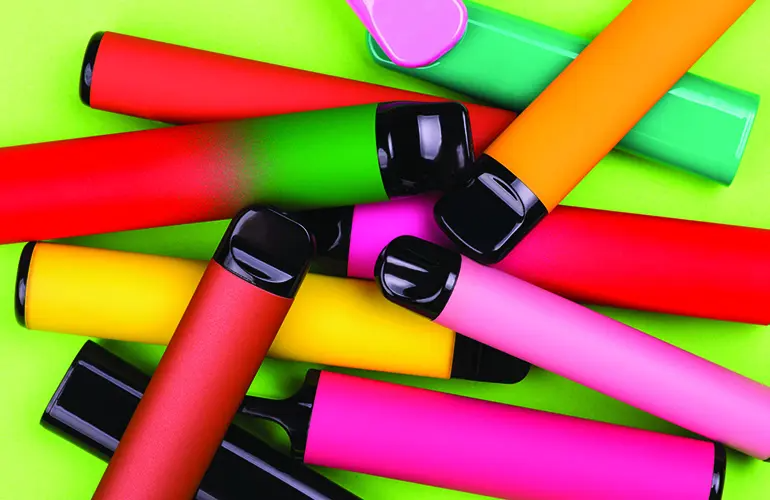 The U.S. Food and Drug Administration (FDA) has issued 189 warning letters to retailers selling unauthorized tobacco products, namely Elf Bar and Esco Bars e-cigarettes. The administration noted that the brands are responsible for marketing flavors that appeal to youth, such as bubblegum and cotton candy.
"The FDA is prepared to use all of its authorities to ensure these, and other illegal and youth-appealing products, stay out of the hands of kids," said FDA Commissioner Robert M. Califf, M.D. "We are committed to a multipronged approach using regulation, compliance, and enforcement action and education to protect our nation's youth."
The warning letters were the result of a nationwide retailer inspection blitz over the past several weeks cracking down on the sale of these unauthorized e-cigarettes.
A study assessing retail sales of e-cigarettes found Elf Bar was the most popular disposable e-cigarette sold in the U.S. in December 2022. That study aligns with recent findings from the International Tobacco Control Survey, which found that as of August 2022, Elf Bar is the top disposable e-cigarette brand reported among persons ages 16 to 19 in the U.S.
A second study showed thousands of e-cigarette exposure cases reported to U.S. poison centers in the past year, most of which were among kids younger than five years old. Among the limited number of cases with brand information reported from April 2022 to March 2023, Elf Bar was cited more than all other brands combined, with nearly all Elf Bar cases occurring among children younger than five years old.
These studies were published in the Centers for Disease Control and Prevention's Morbidity & Mortality Weekly Report.
The FDA's actions are the latest in the the administration's efforts to address e-cigarettes that have a high youth appeal, including flavored disposable products. Last month, the FDA issued import alerts for all products under both the Elf Bar and Esco Bars brands. An import alert places these tobacco products on the red list, which makes them subject to Detention Without Physical Examination and allows the FDA to detain a product without physically examining it at the time of entry.
Elf Bar and Esco Bars products do not have the required marketing authorization from the FDA. To date, the FDA has authorized 23 tobacco-flavored e-cigarette products and devices. The FDA generally sends warning letters the first time an inspection or investigation reveals a violation of the law, and recipients are given 15 working days to respond with the steps they'll take to correct the violation and to prevent future violations.
As of June 16, the FDA has issued more than 570 warning letters to firms for manufacturing, selling and/or distributing illegal tobacco products, including e-cigarettes, and filed civil money penalty complaints against 12 e-cigarette manufacturers.