RaceTrac to Acquire Gulf Oil
RaceTrac to Acquire Gulf Oil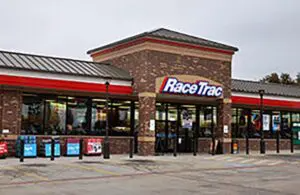 RaceTrac Inc.
announced that its wholly owned wholesale fuel supply and trading subsidiary, Metroplex Energy, has signed a definitive agreement with Gulf Oil L.P. to acquire
Gulf Oil LLC
. As part of the transaction, RaceTrac will acquire Gulf's nationally recognized fuel brand across the United States and U.S. territories, all of Gulf's branded distributor and license agreements and the exclusive rights to market fuel at Gulf's retail locations along the Massachusetts Turnpike.
This acquisition reflects RaceTrac's ongoing strategy to accelerate growth in its core business activities and drive enhanced operating efficiencies. The combination of Metroplex and Gulf creates a fuel network with a presence in high-demand markets across the country and adds another renowned consumer-facing brand to RaceTrac's family of companies.
"The gasoline marketplace is undergoing historic and fundamental change and will continue to evolve rapidly. We are committed to remaining an industry leader and continuing to invest and grow our transportation fuels network. The combination of Gulf's outstanding distributor network and RaceTrac's history of driving retail fuel volume creates a tremendous opportunity to serve dealers and distributors in a manner that will make their sites successful fueling destinations of the future," AJ Siccardi, president of Metroplex Energy, said.
"This exciting acquisition continues our history of growth, expanding RaceTrac's family of companies to nearly 40 states across the continental U.S. and Puerto Rico," said RaceTrac CEO Max McBrayer. "Gulf is a trusted national brand that has been innovating and evolving for over 100 years, combining quality petroleum products with outstanding service. We look forward to continuing to expand the Gulf legacy."
The transaction is subject to customary closing conditions, including approval under the Hart-Scott-Rodino Act, and is expected to be completed within 60–90 days. Financial terms are not being disclosed.
Headquartered in Atlanta, family-owned RaceTrac Inc. has been serving guests since 1934. RaceTrac has nearly 800 retail locations representing the RaceTrac and RaceWay brands in 12 states in the Southeast, offering guests an affordable one-stop shop featuring a wide selection of food and beverage favorites, including freshly brewed coffee, and competitively priced fuel. RaceTrac employs more than 10,200 team members across RaceTrac, RaceWay and affiliated companies Metroplex Energy and Energy Dispatch. Metroplex Energy sells fuels to all RaceTrac locations as well as many other retailers and fuel wholesalers in 15 states primarily in the Southeast, and Energy Dispatch employs more than 250 drivers and operates 98 tractor-trailers out of six states, delivering over 1.2 billion gallons of fuel each year.
Gulf is a Massachusetts-based company with over 120 years of dedicated service, fuel supply, retail programs and latest loyalty offerings to its customers and consumers. Gulf fuels consumers through approximately 1,200 Gulf-branded locations across the United States and Puerto Rico.