RelaDyne Combines with Sun Coast Resources
RelaDyne Combines with Sun Coast Resources
RelaDyne, the nation's largest lubricant distributor and market leader in fuel, diesel exhaust fluid ("DEF"), and industrial reliability services has partnered with Sun Coast Resources ("Sun Coast"), one of the nation's preeminent leaders in fuel, lubricants, DEF distribution and emergency response solutions. The combination of Sun Coast and RelaDyne materially expands RelaDyne's market share and geographic coverage throughout Texas, Louisiana, Oklahoma, New Mexico, and the Carolinas.
Sun Coast, established in 1985, is based in Houston, Texas and is one of the nation's premier fuel and lubricant distributors. Sun Coast also has a significant presence in transportation services capable of delivering end-to-end solutions across a broad range of customers and industries including emergency and logistics services across the United States. The combination presents RelaDyne's customers with new service offerings across a national footprint and provides Sun Coast's customers with access to RelaDyne's expanded distribution footprint, robust product portfolio, and industrial reliability services.
"We are extremely pleased to partner with Sun Coast and are excited to welcome the Sun Coast employees to the RelaDyne family. We are thrilled to have both Kathy Lehne, Sun Coast's founder and CEO, and Kyle Lehne, Sun Coast's Chief Business Development Officer, as part of our combined company's senior management team," said Larry Stoddard, President and CEO of RelaDyne. "Sun Coast's distribution capabilities in Texas and the Gulf Coast region focused on fuel, lubricants, DEF, and emergency response solutions along with its freight and logistics services reach across the entire nation and are highly complementary and significantly expand RelaDyne's existing automotive, commercial, and industrial go-to-market strategy. This partnership is incredibly exciting for our business and will allow us to surround our customers with more comprehensive products and services than ever before."
"We could not be more excited to partner with RelaDyne," said Kathy Lehne, Founder & CEO of Sun Coast Resources. "We have known RelaDyne and their management team for many years and have been impressed with their growth, but what was critically important to us was that Sun Coast's principles and core values aligned with those of RelaDyne. The combination of RelaDyne's products and services with Sun Coast's market position and logistics capabilities will greatly enhance our growth and cement us as the market leader."
Kyle Lehne, Chief Business Development Officer of Sun Coast Resources added, "The strength and backing of RelaDyne, including joining their Industrial Reliability Services with our Logistics Services, will greatly expand an already extensive services portfolio and provide an unmatched customer solution in the industry."
RelaDyne continues to be the "Acquirer of Choice" in the lubricants, fuel, and reliability services industry. "The combination with Sun Coast is transformational as we continue to execute on our inorganic growth strategy in the United States," said David Schumacher, Chief Strategy & Operating Officer for RelaDyne. "We have known the Sun Coast business and the Lehne family for many years and their culture and entrepreneurial spirit are unmistakable and completely aligned with RelaDyne's core values."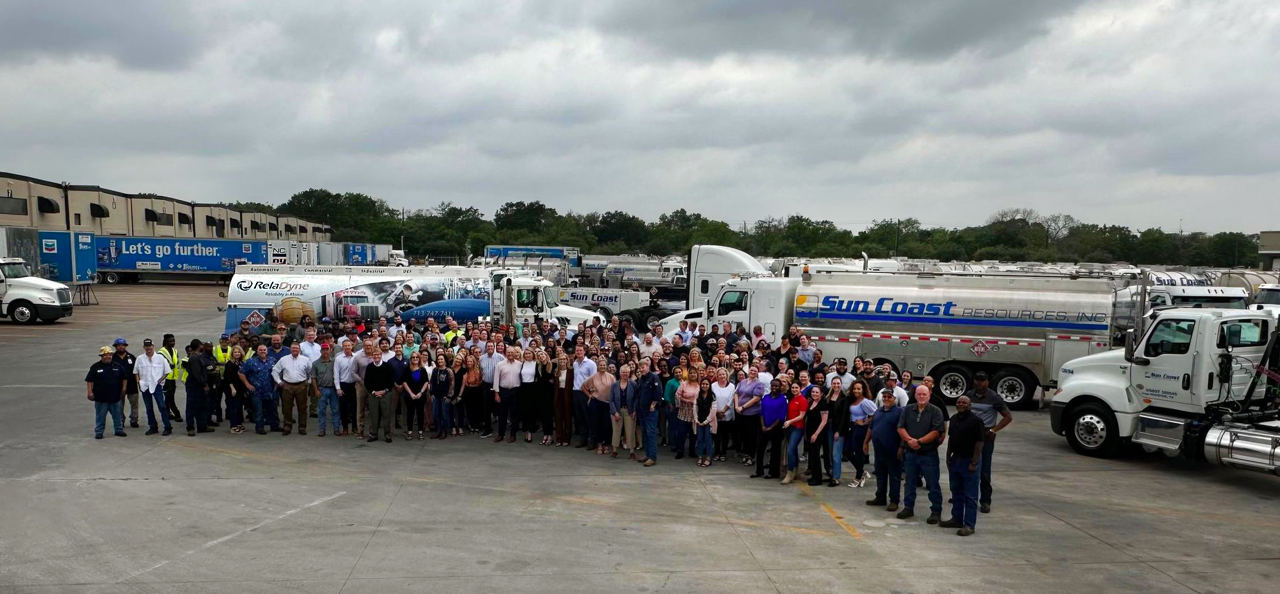 RelaDyne and Sun Coast Resources teams together in Houston
Advisors
Lazard served as lead M&A advisor and RBC served as M&A co-advisor to RelaDyne. Sidley Austin served as M&A legal advisor and Ropes served as finance legal advisor to RelaDyne. Barclays served as the exclusive financial advisor and King & Spalding LLP served as legal advisor to Sun Coast Resources.
About Sun Coast Resources
Sun Coast Resources, based in Houston, Texas, was founded in 1985 and has an extensive national footprint serving as one of the nation's premier fuel distributors. Sun Coast provides fuel and lubricant products, freight, and emergency response services across the mainstream and emergency services segments. Sun Coast is a best-in-class operator with differentiated emergency services business, nationally recognized as a reliable emergency fuel and disaster response company. Sun Coast's product line include a vast array of petroleum products, including Gasoline, Diesel Fuel, Marine Diesel, Jet Fuel, Avgas, Kerosene, DEF, and a full line of Chevron Lubricants and other prestige brand lubrication products. Sun Coast is currently licensed in 49 states, including the District of Columbia, and operates 21 facilities in Texas, Louisiana, New Mexico, North Carolina, Oklahoma, and South Carolina.
About RelaDyne
RelaDyne, headquartered in Cincinnati, Ohio, is the nation's largest lubricant distributor and market leader in fuel, DEF, and industrial reliability services for industrial, commercial, and automotive businesses in North America. RelaDyne was formed in 2010 by the combination of four well-established industry-leading companies and has since grown to more than 150 locations by strategically acquiring other industry leaders. Our core business, focused on lubrication excellence, is accomplished through offering unmatched products and services in which we improve the reliability and efficiency of our customer's equipment for increased profitability of their business. Through an understanding of each customer's specific needs, our team of dedicated Associates become a valued extension of their operations. For more information, visit www.RelaDyne.com.