Tesla to Open 7,500 of Its Superchargers to Other EVs
Tesla to Open 7,500 of Its Superchargers to Other EVs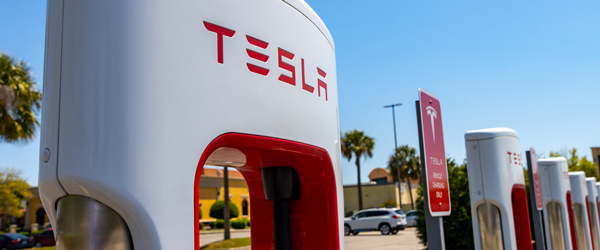 ALEXANDRIA, Va.—Tesla has agreed to allow other electric vehicles to use its proprietary Supercharger network for the first time, reports the Wall Street Journal and CNBC.
The White House said it received a commitment from Tesla to open at least 7,500 new and existing chargers, including 3,500 250-kilowatt chargers, to non-Tesla vehicles by the end of 2024. Tesla also plans to triple its Supercharger network, with the chargers made in Buffalo, New York. Tesla already has a U.S. network of more than 17,700 fast chargers at over 1,650 locations.
The White House acknowledged Tesla's commitment during an announcement of new EV charging standards for the Biden Administration's initiative to install a national EV charging network of 500,000 chargers in the United States.
"Further accelerating the buildout of a convenient, reliable charging network is critically important to make electric vehicle charging a seamless experience," wrote the White House in a statement.
Tesla has signaled its intentions to allow non-Tesla vehicles to use its Superchargers for years. The company's most recent financial filings showed said that the company "began to offer Supercharger access to non-Tesla vehicles in certain locations in support of our mission to accelerate the world's transition to sustainable energy." The Journal reports that Tesla is testing a program in Europe that allows other EVs to use its chargers.
According to Mitch Landrieu, the White House's infrastructure coordinator, Tesla CEO Elon Musk has been involved in discussions with the administration on how to improve highway EV charging.
"He was very open. He was very constructive. And at that time, he said his intent was to work with us to make his network interoperable," said Landrieu during the administration's announcement.
In its announcement, the White House commended Pilot Company's partnership with General Motors and charging network EVGo to install 2,000 fast chargers at Pilot and Flying J centers along U.S. highways. It also applauded TravelCenters of America's collaboration with Electrify America to install 1,000 EV chargers at 200 locations along major highways over the next five years, as well as bp's partnership with Hertz on an EV charging network for the car-rental firm's customers, powered by bp pulse, bp's global electrification and charging solution brand.
Part of the announcement included new charging standards by the Departments of Energy and Transportation that "ensure everyone can use the network—no matter what car you drive or what state you charge in." CNBC reports that among the requirements:
All new chargers built with federal funds must support the Combined Charging System (CCS) plug standard. The CCS standard is used by most automakers other than Tesla.
New charging sites built with federal funds must have a minimum number of DC fast chargers.
Federally funded chargers must be up and running at least 97% of the time once installed.
Effective immediately, all federally funded chargers must be assembled in the United States, and their steel enclosures must be made in the United States. By July 2024, at least 55% of the chargers' components (measured by cost) must be made in the U.S. as well.
New chargers built with federal funds must be compatible with new user-friendly technologies like "plug and charge," which automates the process of paying for the charge.
The administration also announced new rules that help ensure that drivers don't have to use multiple apps to find and use chargers. These rules make data on charger locations, pricing and availability public and available via mapping applications.
Convenience stores are investing in EV charging infrastructure, including 7-Eleven, Casey's, Circle K and Sheetz, among many others. Last month, Shell USA purchased EV charging company Volta for $169 million in an all-cash deal.
EV charging remains a barrier to widespread EV adoption. In a recent Deloitte survey, 48% of respondents said range anxiety was a top concern when buying an EV, followed closely by the time required to charge (47%) and lack of public EV charging infrastructure (46%).
For consumers who do drive EVs, their top desired amenity while charging is Wi-Fi connectivity (64%). Restrooms (60%), coffee/beverages (56%) and snacks/light meals (48%) were the next most desired offerings.
When charging on the go, 24% of U.S. consumers want a dedicated EV service station and 20% want a traditional gas station with EV chargers. However, a significant number of people surveyed (25%) in the U.S. simply want access to charging when they need it regardless of location.
For convenience retailers looking to bring EV charging to their locations, NACS launched the EV Infrastructure Matchmaking Tool, which connects retailers with EV charging companies for all aspects and stages of offering electric vehicle supply equipment.
NACS also offers the EV Charging Calculator, which allows retailers to assess the cost and profitability of offering EV chargers at their sites. The calculator focuses on what retailer utility costs associated with EV recharging are and what the corresponding revenue must be to recover those costs after allowing for potential ancillary in-store visits and purchases.