TXB Receives CSD's 2023 Chain of the Year Award
TXB Receives CSD's 2023 Chain of the Year Award
TXB Receives CSD's 2023 Chain of the Year Award
Texas-based TXB accepted CStore Decisions' distinguished 2023 Chain of the Year Award in Atlanta at the annual NACS Show.
By Emily Boes |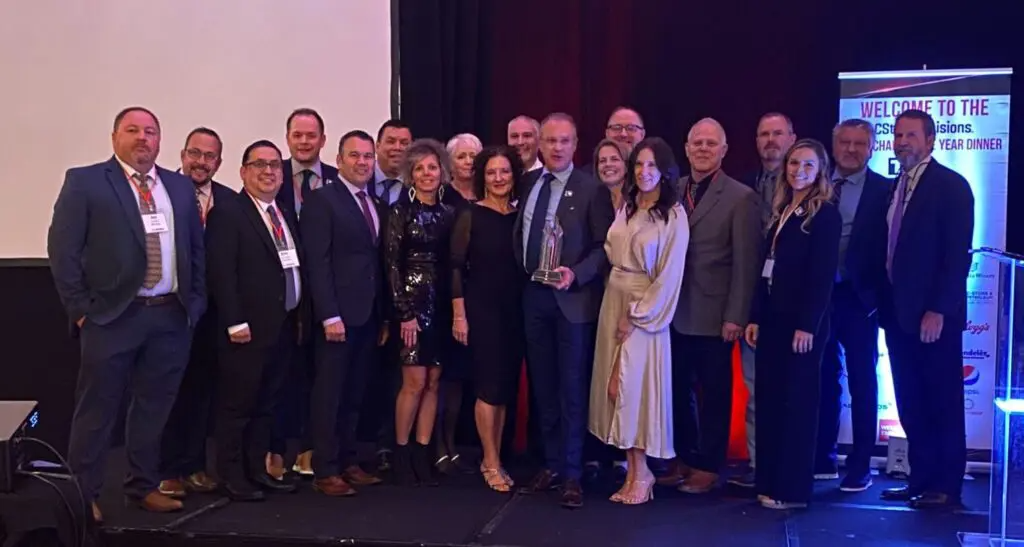 CStore Decisions named TXB, headquartered in Spicewood, Texas, its 2023 Chain of the Year, and it ended the second day of the annual National Association of Convenience Stores (NACS) Show by officially presenting the convenience store chain with the award.
"CStore Decisions' Chain of the Year Award is the oldest and most prestigious award for convenience retailing," noted Erin Del Conte, editor-in-chief, CSD. "Over the past decade, we have found that there are more and more chains deserving of this award. … Tonight, we are honoring TXB for its growth, direction and retail execution."
The Handoff
With industry colleagues gathered at the Biltmore Ballrooms in Atlanta, Tony El-Nemr, founder and CEO of Nouria, CSD's 2022 Chain of the Year winner, passed the award to TXB.
"TXB isn't just a brand; it's a shining example of innovation and dedication, showcasing progress and transformation," said El-Nemr.
TXB operates 50 stores located in Texas and Oklahoma. Having originated as Kwik Chek, the first rebranded site celebrated its opening in August 2021 in Georgetown, Texas. TXB exemplifies Texas culture and strives to showcase authenticity, hospitality and integrity. The chain stands out with its fresh foodservice selection, use of technology and locally sourced private-label items.
"Overall, TXB is focused on building great stores that take care of the communities they serve, have great products, good food and that employees are proud of," said Del Conte.
"What's so cool about TXB is how they blend tradition with cutting-edge ideas to create brand experiences. They're not afraid to challenge the norms and venture into the unknown, bringing us some truly new solutions," El-Nemr added.
Growing TXB
Kevin Smartt, president and CEO of TXB, accepted the Chain of the Year Award at the event, and he noted that he accepted the honor on behalf of the TXB team. He credited the people at TXB for the reason the company earned the award.
"I truly believe a brand is not a brand unless it has heart. And our people are the heart of the company," said Smartt.
Smartt knew that TXB needed to be bold to compete in the c-store industry, especially as the chain was undergoing its rebranding. He also recognized the importance and influence of convenience stores in the broader community.
"Because we play such a vital role in our communities, I believe we all are well positioned to continue to evolve and disrupt in retail," he said.
Smartt wanted TXB to resonate with customers as well as the team, and as part of that initiative, TXB focused on fresh food as well as technology.
"I became obsessed with this idea that we could either be a disruptor or be disrupted. And that is really where TXB grew from."
TXB's goal is to "Leave 'Em Better." And, as El-Nemr noted, "this (award) isn't about what's been achieved — it's about the thrilling adventures that are yet to come, the mission to break new ground, and to chase excellence with new energy and fresh ideas."
The NACS Show continues through Friday, Oct. 6, at the Georgia World Congress Center in Atlanta.